Mental Health Support
In light of the situation with students being off for an unspecified time there will certainly be some some who struggle with being out of their routine and away from social contact. If you have students or parents contact you who express that they are struggling please forward the below information on and ask them to reach out and make contact an agency that can support and help them through what is a really unnerving and unsettled time.
For students: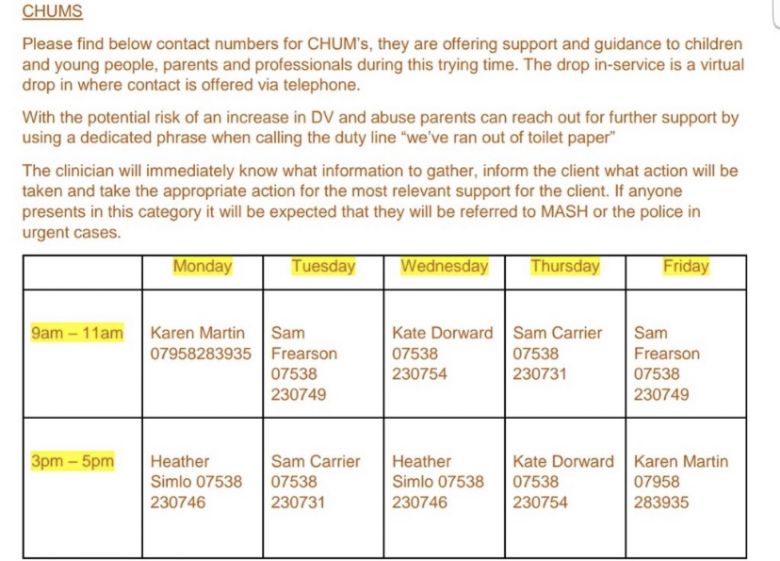 | | |
| --- | --- |
| Kooth | |
| Shout | Text number 85258: They will reply anytime |
| Chums | |
| Chat Health NHS | This service is provided by the Cambridgeshire and Peterborough School Nursing service for young people aged 11-19 in the Cambridgeshire, Huntingdonshire & Peterborough area. You will get a reply within 24 hours from an NHS School Nurse between 9:30am and 4:00pm, Monday to Friday (except bank holidays |
| Childline | |
| Centre 33 | |
| Anna Freud | |
| Mind | |
| Samaritans | |
| Nspcc | www.nspcc.org.uk/keeping-children-safe/childrens-mental-health |
| Lifeline | |
https://www.studentminds.org.uk/coronavirus.html
(We understand that the outbreak of COVID-19 can create worry and distress for people in the schools and university community. At Student Minds we are collating guidance and developing resources to support you with this. We hope to update this page regularly with new information as it becomes available.)
https://www.cdc.gov/coronavirus/2019-ncov/prepare/managing-stress-anxiety.html
Many Social Media Influencers have spoken out about the current situation and have released some really positive videos regarding how to be productive in isolation, revising from home and positive wellbeing
https://www.youtube.com/watch?v=QCOoDmtidY8
Eve Bennett (signposting, public announcement, promoting future channel direction and upcoming videos regarding home working and GCSE/A level revision at home during this time)
https://www.youtube.com/watch?v=q5OVCqqMnmc
Jack Edwards (organising and productivity during isolation, revision, time management)
https://www.youtube.com/watch?v=qD-x0SoiTaE
oh no Nina (mental health, wellbeing, activities, positive mind set)
https://www.youtube.com/watch?v=D7qnBFBZCOc
Ruby Granger (Study with me LiveStream) These live stream 'study with me videos' are really popular with students from year 10-year 13 and many social media influencers/study youtubers make these at the moment.
For adults: